Frisco ISD's New Pay to Play Rule
This new school year came with new parking fees, new MyPaymentsPlus fees, and if you're an athlete, new participation fees.
Frisco ISD has put into place a new rule that requires athletes to pay a fee to participate in sports.
"For so long we haven't had to pay but if you look at why they're doing it, it makes sense… We haven't had an increase in our budget so that's what that fee is really for. It's not to play, it's for all the other costs that come with it," Athletic Coordinator Che Hendrix said.
"I think that I'm okay with it, you know athletes should have to pay. We pay outside of school for club and districts need help," parent Vicki Thomas said.
There are a lot of fees pertaining to athletics, whether it be for transportation or uniforms, and the district is striving to pay for all of it.
"You have to pay for the transportation, you have to pay to get your uniforms cleaned, or get new uniforms. There's other little entities outside of just volleyball, the officials you have to pay for, that require[s] funding. And if there's a shortfall in the budget then how would we have a volleyball game without officials? Or, how are we going to be able to transport them without a bus or gas for the bus," Thomas said.
Even with all of these expenses, some students and parents feel that the fee is extensive.
"I don't think we should have to pay to play sports but at the same time I kind of like how it is narrowing down the more committed players. But at the same time it's a lot of money for a lot of kids," junior Skylar Wilson said.
This new fee,which received mixed opinions, is a result of a budget shortfall that occurred over the past year.
"When the state cut off certain funding in the state of Texas I mean everybody got hit. We lost millions of dollars … Then having that vote in July and having it be no, I think that those are the main reasons," Thomas said.
This is the first year that we have had a pay to participate rule while other districts have been implementing this rule for quite some time.
"I think when you look at the other districts around we are one of the last districts to have a pay to participate type deal so I think it shows the kind of financial shape that Frisco has been in to where it hasn't had to charge this. But with so many players participating in so many sports we've gotten to the point where we needed that extra 200 dollars to continue doing what we do," Hendrix said.
Students and parents must decide if the fee is worth it to continue playing the sports that they love with the pay to participate rule now in place.
Leave a Comment
About the Contributor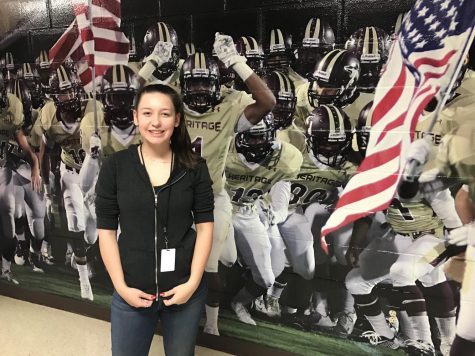 Katherine Derryberry, Reporter
Junior Katherine Derryberry loves sports with all her heart, but she doesn't actually play any sports. Her love comes from watching her little brother...