Un-Happy Meal
A student's take on the new lunch policies.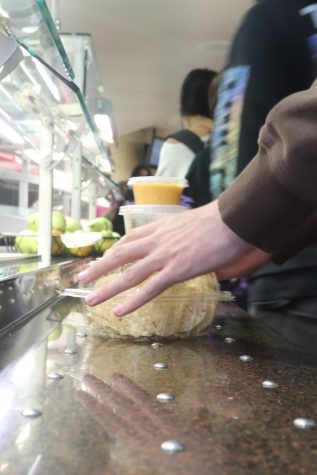 The majority of the time I step into the cafeteria to get school lunch, the food is unpleasant, gummy, burnt or bitter. Most of the meat-based meals have a rubbery feeling and taste.  
That's part of why administrators should explore other choices to help students enjoy lunches in different ways, like searching for a path to reinstitute deliveries and offering microwaves. The district can try to make deliveries safer by attempting to partner up with Doordash or UberEats. They should also introduce microwaves for people who don't like school food or can't do deliveries.
Cafeteria employees work very hard and face challenges to provide us with school food. Some students may like the school food or rely on free lunch, a valuable offering. But the school and the district can still provide more options.
 For some students, bringing their personal food to warm up is more efficient, as the lines are always so long. I've examined the cafeteira, and many students bring their own lunch. Adding microwaves in the cafeteria is one, cost-effective way to make our lunch experience better.            
I've eaten the cafeteria food countless times. One of the examples is chicken nuggets. When I bit into it, it was gummy, and kind of gray looking. It wasn't pleasing to look at, and it wasn't tasteful — so why not invest in food students enjoyed in the past? 
The school could better their lunches by adding back the burrito bar it had in previous years. The burrito bar allowed students to walk down the line and create wraps or bowls. Various students around school agreed that it was effective before the pandemic brought the offering to end.
"Yeah, that was the one good thing about lunch," senior Spencer Waweru said. "Everybody enjoyed it. It's like Chipotle, you make your own."
As of last year, we had the choice of ordering deliveries. This year, because of a district rule and concerns about safety, outside food orders are not allowed to arrive at school. 
Many students are not in favor of the new lunch policies of no deliveries and how they enforced the new lunch laws, such as Chris Jaiyesimi.  
"I ordered quite a bit because I felt like I had better food options [than the cafeteria food,] like McDonald's, Chick fil A and Wendy's," junior Chris Jaiyesimi said. 
While the safety concerns are valid, the school should strive to work harder to make better school lunch options for our students after disallowing deliveries. 
"[The school could make] sure the Uber or Doordash driver is an actual certified driver so the school can be safe and we can still get the good food," Jaiyesimi said. 
Maybe the district could partner up with DoorDash. It has partnered with Dr. Pepper, which provides us with sodas, so the school should partner up with food delivery companies to make it so everyone can enjoy lunch. 
Some students may want a cheap option for lunch, but is it appetizing? 
By spending just a couple more dollars, you would be able to get food you can enjoy and afford through food deliveries. Affordable lunch is the number one priority for students, and many rely on free lunch. Students can also use microwaves and avoid spending money on deliveries by heating up leftovers, or something easy like instant noodles. There are still many options for people who want a cheap lunch.
Lunch could be more enjoyable for students with some of these changes. With these alterations, students can enjoy lunches in different ways: microwaves, burrito bars and deliveries.   
For most students, their 30-minute lunch is the most stress-free part of their day, and with some changes, students can make the most out of it.