Amare Gets Back In the Game
Last year, senior Amare Jones committed to Tulane University to play football.
"A few years ago Amare went to a football camp at Tulane and he fell in love with the school. Since then he has wanted to go there. So when he committed to them it was a big deal," senior Paul Flores said.
On October 6th, 2017 Amare Jones fractured his ankle and fibula in one of our most popular showdowns of the year against Independence High School.
"I got tackled from behind and it snapped my ankle out of place which I felt it break off of impact and then he fell on it some more and it fractured my fibula," Jones said.
During the game, athletic trainers Taran Sharpe and James Kurowski helped Jones off of the field so that they could examine his injuries.
"The trainers evaluated him so they could tell something was wrong so they took him out of the game, started him on ice and he watched the rest of the game from the sideline," Athletic Coordinator Che Hendrix said.
"They cut off my cleat because it was too swollen to get it off already and I iced it and they gave me a boot and crutches," Jones said.
Usually with a serious injury like he experienced, colleges take away scholarships. But, Jones was still confident in his recovery and his team.
He went through surgery and started going to physical therapy so that he could help his ankle and fibula heal faster.
"I've already gotten surgery. I had to get a metal rod in my foot in order to be able to play football again and I have therapy," Jones said.
Throughout this process he continued to support his team. He has especially supported Connor Wolfe who stepped up and played quarterback for the rest of football season.
"I wasn't really worried about it after I got hurt because me and Wolfe prepare with each other every day. We practice, we compete against each other and I felt confident about him as quarterback because he really does everything that I do. So as long as he stayed focused and kept his poise we played good," Jones said.
"I was proud of Connor Wolfe specifically for coming in and playing quarterback and I was really happy with the rest of the team and the other guys for stepping up in Amare's absence and really playing well," Hendrix said.
"Even though Amare got hurt and the rest of us were terrified about what was going to happen, because all of our plays run around him. We continued to do what we do as a team and support him throughout all of this," Flores said.
Even though he sustained a serious injury, Tulane will still honor his football scholarship because he plans on making a full recovery before his senior year ends.
Leave a Comment
About the Contributor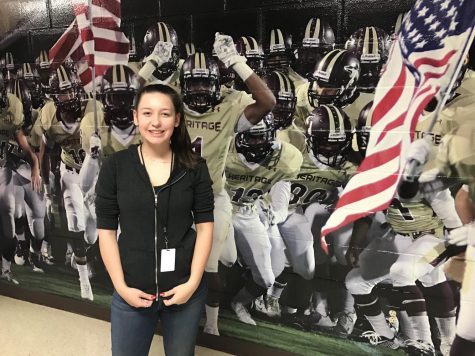 Katherine Derryberry, Reporter
Junior Katherine Derryberry loves sports with all her heart, but she doesn't actually play any sports. Her love comes from watching her little brother...