A new scholarship helps school heal
Some might say your teenage years are supposed to be the best years of your life. No one thinks about them being your last.
After a fatal motorcycle accident, the loss of beloved Coyote Gabbriel Atao devastated our community. However, one coach decided to channel her grief into something much larger than herself.
"I asked around. I asked some of the other coaches that have given scholarships what were the steps to take and sent a few emails and they responded quickly. I just had to fill out paperwork, and then I met with [ Gabe's ] sister to ask a few questions and that their family was okay to do it," track and cross country coach Chryste Gaines said.
A scholarship was created in Gabe's honor to not only benefit Heritage students, but to maintain the giving attitude that Gabe possessed.
"Gabe was a very positive, very influential, very caring person. I don't think there's anyone that came into contact with Gabe that didn't gain something from that relationship. I think that's why he's had such a huge impact on the student body. I think any student that receives this scholarship should embody all the things that Gabe did," Principal Mark Mimms said.
Among all of the ideas that were suggested to remember Gabe, the scholarship was the one that stood out.
"There were a lot of ideas that came about to honor Gabe. [The reason] why I was so impressed that they came up with the scholarship is that this is something that reoccurs every year. It's not something that we do one year… It's every year that there will be a student who will receive a scholarship in order to do the things that he didn't get to do," Mimms said.
Coach Gaines has worked to create the criteria that students must meet in order to be eligible for the scholarship.
"Our scholarship will go to a student from Heritage, that's the criteria we've set. Every application gets screened and they'll see the students that came from Heritage and Gabe's scholarship could go to them," Gaines said.
The considerable gesture from Coach Gaines has evoked a positive response among those that were close to Gabe.
"I think it's a really cool scholarship because it's something we all can remember him by. Plus, it's something that if Gabe was still here with us, actually physically here with us, I feel like he would be non stop smiling," junior Connor Rayburn said.
Gabe's close friends and family are not the only people who have felt compelled to contribute to the cause.
"People have just asked how to donate. You can donate online or send a check to the Frisco Education Foundation. Just mention Gabe's name and the money will go to that fund and hopefully we can carry this on for years to come," Gaines said.
Leave a Comment
About the Contributor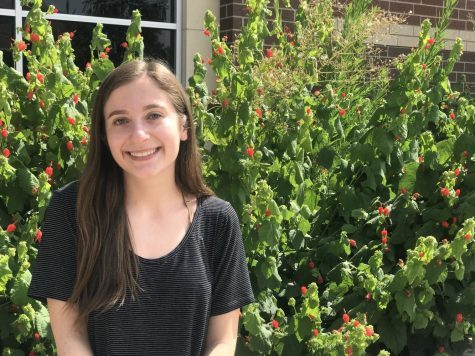 Julia McCommas, Web Editor
Julia McCommas started broadcast in seventh grade because she wanted a creative outlet for herself. The 18 year old enjoys working with cameras in order...