Heritage BPA wins big at regionals
Heritage BPA has 80 students advance to state after winning at regionals.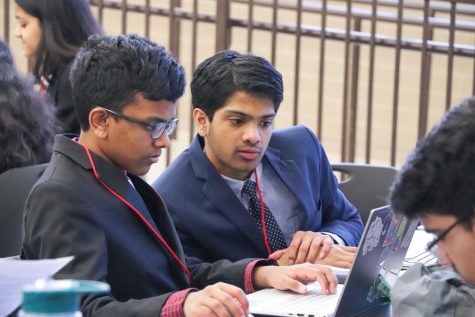 Heritage students advanced to the Business Professionals of America state conference on Saturday, January 18th, 2020 after competing at the Regional Leadership Conference (RLC) at Reedy High School. 
Business Professionals of America is a student organization whose goal is to develop and empower student leaders to discover their passion and change the world by creating unmatched opportunities in learning, professional growth and service. The Regional Conference is the first level of competition where students have the opportunity to compete in order to advance to the State conference and, from there, the National Conference which is held in Washington D.C. This year, Heritage took 191 students to regionals, its largest group of students ever.
"This has been the best Regionals yet; the number of students we bring to Regionals and then state increases every year," Jerry Burks, an advisor for BPA at HHS, states.
Heritage High School has a reputation of being the biggest, loudest, and proudest BPA chapter at the Regional Conference. Students have a tradition of yelling "We are…Heritage!" after every Heritage student wins an award. This tradition has become a staple at RLC and students always look forward to this part, as it gets everyone excited with school spirit.
"This was also a great Regionals as we had State Officer Gouzia Sivarajah, and National Officer Aliah Mir representing Heritage on the stage," Burks explained.
Regionals is not just about the competition and awards; it is about all the memories that are created as students work long hours to create amazing projects. Competitors are able to meet students from other schools and create new bonds at RLC as they spend the entire day together. Many students look forward to regionals and claim it as one of the best experiences a student could ever have.
"Regionals is one of my favorite events of the year and it's sad to think that this was my last one. I will forever remember all the memories and friends I made at RLC," Sadhvika Challa, a four year member of BPA and current Vice-President of the organization, stated.
"Although I'm sad this is my last regionals, I can't wait for state conference where I'll be able to create even more memories with my friends!," she proclaims.