Locked Down
School implements new security plans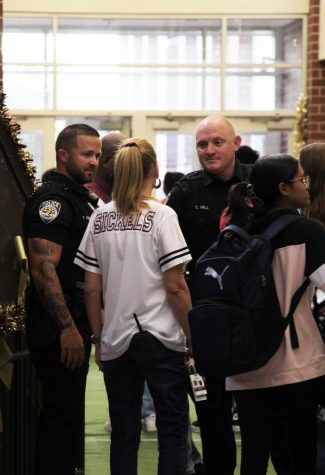 Story by Lalitha Prabhahar
A teacher from Robb Elementary walked back from the school building to the parking lot, oblivious until a few bystanders shrieked, trying to warn her of the proximity of the active shooter. The teacher's attorney told NPR that despite slamming her classroom door as fast as she could, he managed to enter the school building armed with an AR-15-style rifle.  
Ever since that fatal disaster that took out 21 people in Uvalde, Texas on May 24, schools across the state, including here in Frisco, have been tightening safety protocols with the hope of avoiding similar occurrences. 
The events at Robb Elementary serve as an example of incidents that might happen in the absence of security. At Heritage, many staff members and administrators are involved in trying to prevent further life-threatening situations from ensuing. 
In addition to extra surveillance of camera systems and prevention of restaurant deliveries, every school day after the first bell rings, teachers check all the interior and exterior doors. 
This occurs six to ten various times throughout the day via the QR codes on every exterior door. Teachers ensure that the doors are locked, and once opened, they're also secured without any maintenance issues. 
"So far, we've had really good success [with the new security measures]," Assistant Principal Mr. Smith said. "The idea of the door checks have been extremely helpful as well." 
Using the data of different drills they've run, the administrators created a safety drill called musical classrooms, which they put into practice on Sep. 12. 
Essentially, musical classrooms begins with a prompt from the announcements to the students and faculty in the hallways to find a classroom as soon as the music stops. This drill is repeated a few times until the people of the campus are adjusted to the procedure.
Suggested by assistant principal Mr. Newsome, this functions to ensure students reach the safety of their classrooms quickly during cases of emergency.
"Hopefully, throughout the year, we can implement it during lunch time, when it's really crowded in the two corners," Mr. Smith said. "Those are the pieces that we're trying to see and adjust as we go forward." 
According to Mr. Smith, the administrators will be able to see whether there will be variations once they implement this security method further. Then, they'll be able to adjust their safety practices and procedures based on student and faculty feedback as they move forward.
"All the measures that we can take to keep schools, [especially] us at Heritage, secure, the better and that's why we strongly tell students not to open any doors [and] teachers to keep all interior doors secure," Officer Kiser said. 
A major part of school security that Mr. Smith seeks to remind us is that everyone plays a role in keeping the campus safe. He also requests students and faculty that if "you see something, say something" since a lot of people become bystanders of situations requiring immediate action. 
To prevent other teachers from experiencing the insecurity that triggered the peril in Uvalde, the faculty has one request.
"I strongly ask in hope that everyone's taking it seriously," Officer Kiser said. "Please keep all doors secure – inside and out. It does only take a split second for someone to sneak in and hurt a lot of people."